Приветствую друзья!
Последние несколько лет непосредственно принимая учавстие в данном мероприятии, я готовил тематические иллюстрации на эту тему. С прошлыми идеями можно ознакомиться по ссылкам тут (постер), тут (карточки) и тут (футболка). В этом году мировая пандемия и всем известный "короновирус-19" внес свои коррективы. Поскольку вероятность заражения остается по прежнему высокой, а вакцины по-прежнему нет, то организаторы мероприятия решили, в целях всеобщей безопасности, отменить запланированное проведение данной встречи. Ну а поскольку идеи у меня были и на этот год, то коль скоро самого мероприятия не будет, решил перенаправить их в иное русло:)
Greetings all friends!
Over the past few years, directly taking part in this event, I have made thematic illustrations on this events. You can show this work in more detail by following the links here (poster), here (bages) and here (t-shirts). This year the world pandemic and the well-known covid-19 have changed a lot. Due to the fact that the likelihood of infection is still high, the "PelikanHUBs team" decided to cancel the scheduled meeting, for general safety. I planned to do something this year as well too, but if the event is canceled, then I'm using a slightly modified idea 🙂
Official appeal from "Pelikan HUBs team":
   The Pelikan Hubs event is connected with joy and heart warming cheerfulness in the fans minds. It is an enrichment for all the pen lovers who love handwriting and writing instruments.
Normally the registration would start within the next days. But we think it would be careless to ask people worldwide actively to meet, when the risks of spreading Covid-19 are still rated very high worldwide.
That is why we decided with a heavy heart to cancel this years Pelikan Hubs event and concentrate on looking forward to meeting all close Pelikan fans at Pelikan Hubs 2021 again! With joy, cheerfulness and a good feeling!
We kindly ask for your understanding and hope that you support this decision in terms of caring for each other. Please take care of yourself and your beloved ones and stay passionate to handwriting in these times. Most important at all: stay healthy!
Sending you best wishes, Yours Pelikan Hubs Team from Hanover
Ну а теперь подробнее (Well, now detailed):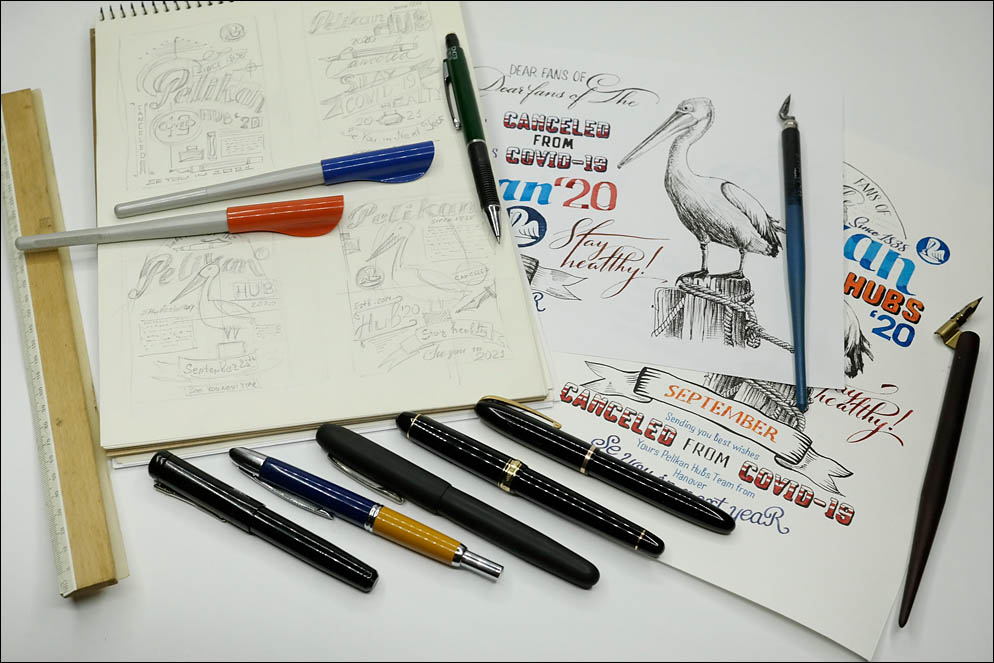 Это все, или почти все,  мои инструменты принимавшие участие в данном проекте(These are  my writing tools that I used in this project)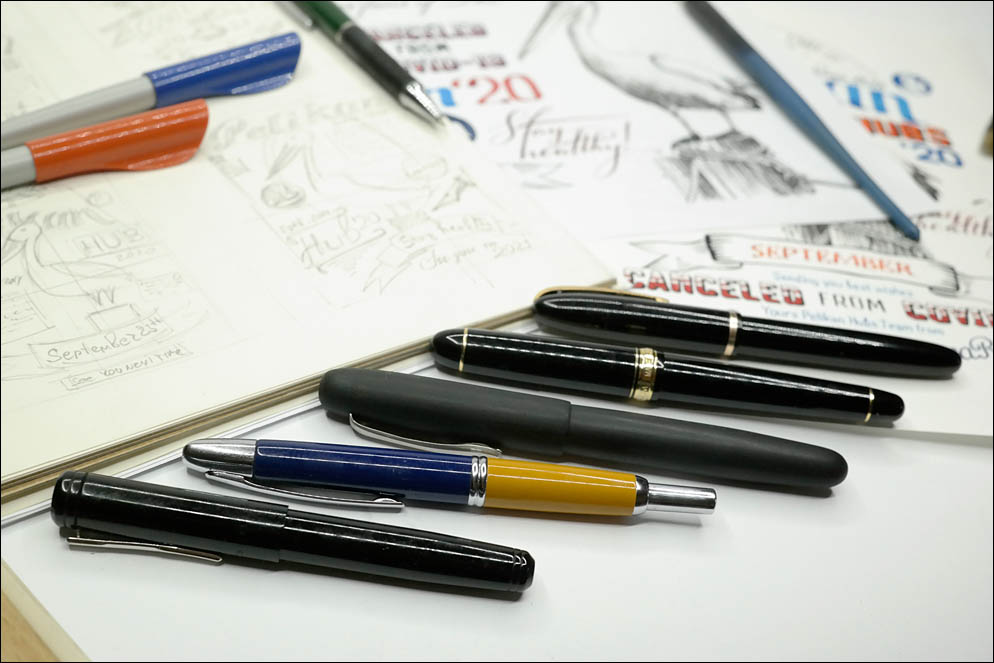 От первых набросков идей (from first idea sketches)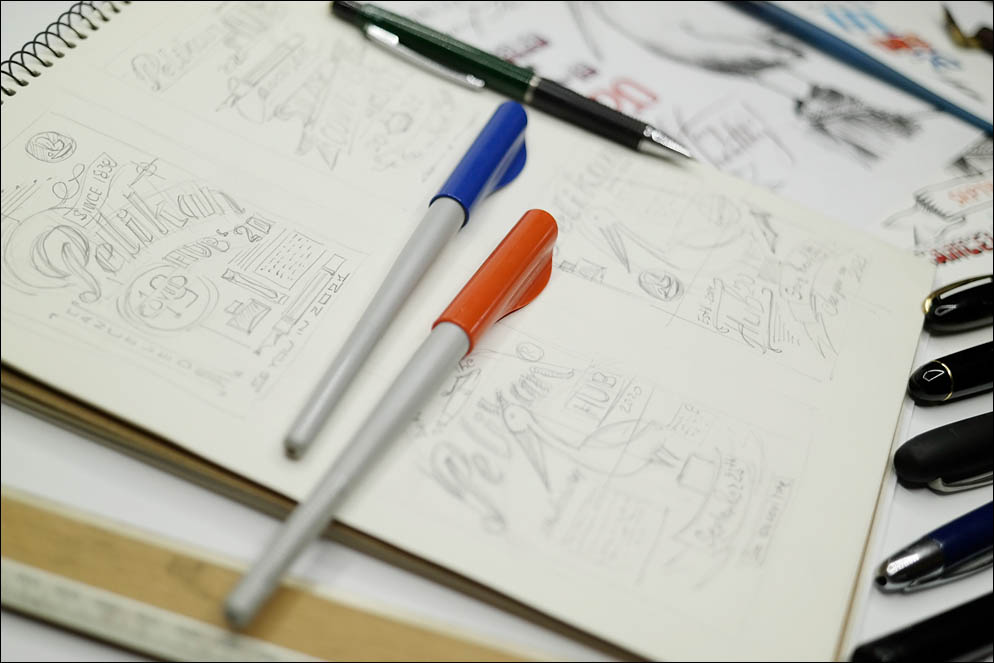 До тестовых эскизов (to tests sketches)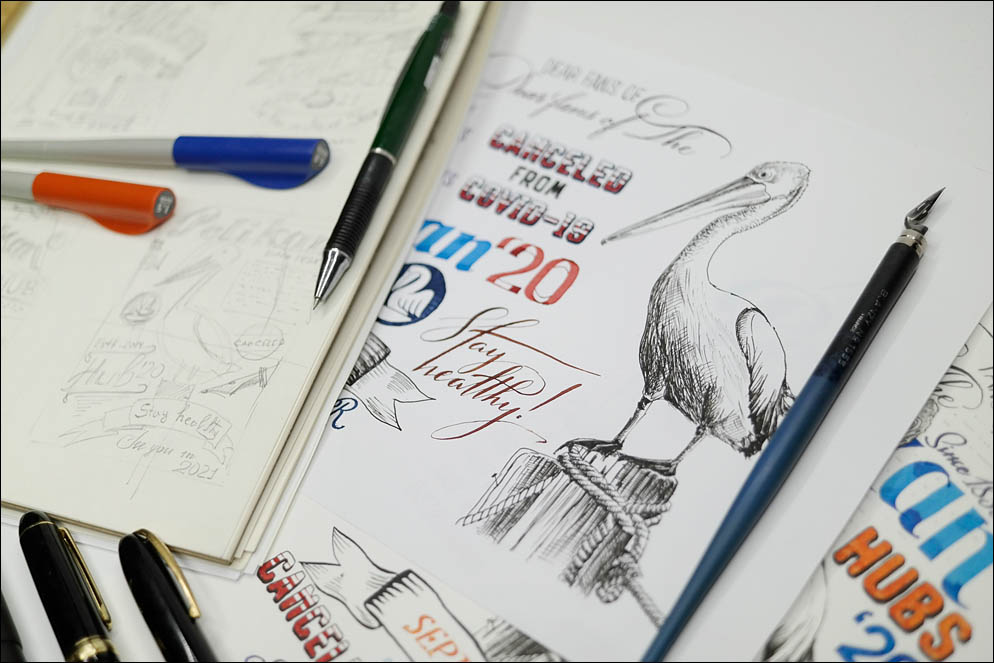 Использовал все что приходило в голову и есть у меня, от остроконечных и плакатных перьев до италиков и даже Мьюзик перо (I used everything that came to my mind and I have, from dip nib to Italic and even Music)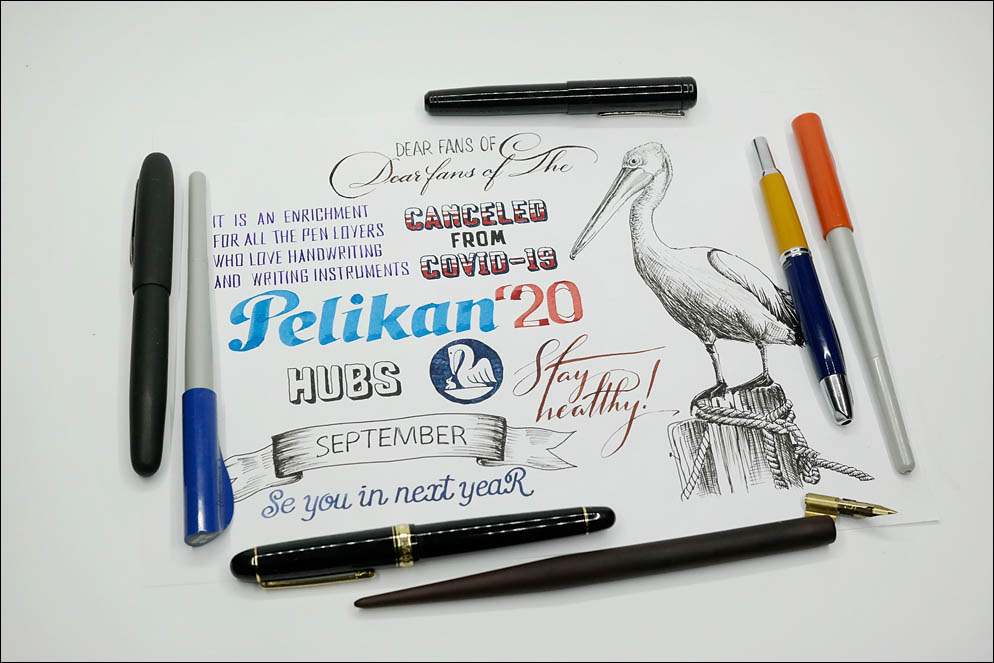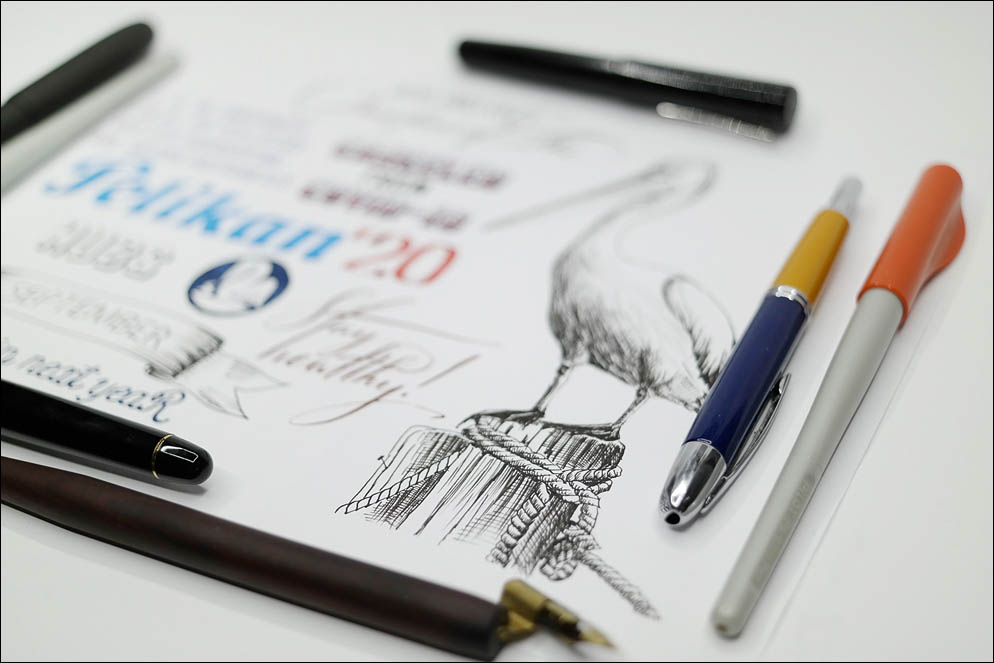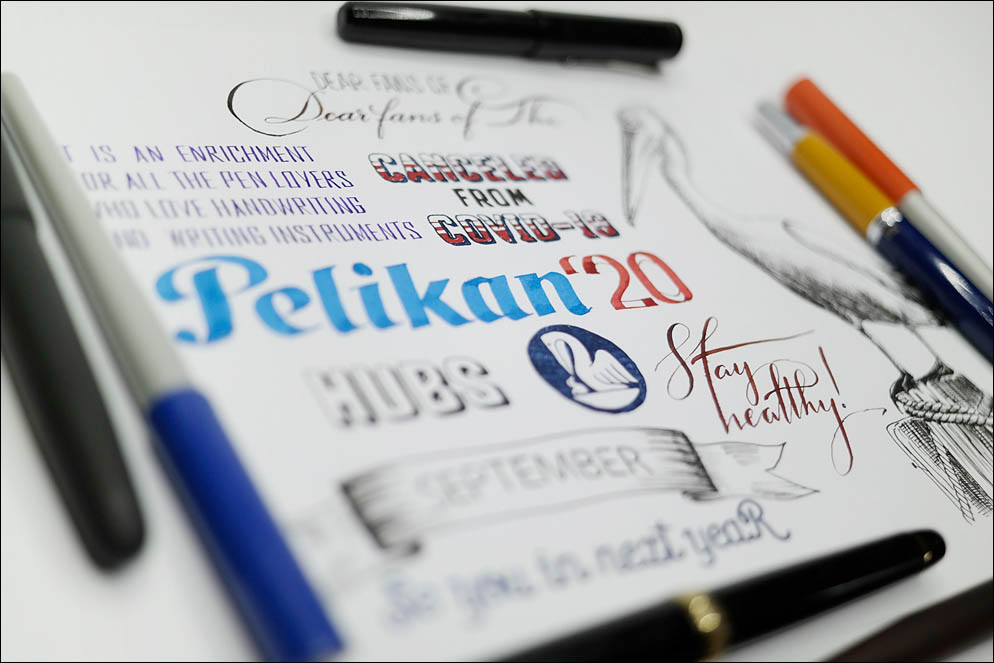 И вот мы пришли к результату (this is a final version)
Tools: Pilot Parallel Pen 6.0mm, Pilot Parallel Pen 1.5mm, Franklin-Christoph 20 pocket w/HPS SIG B, Platinum #3776 Century w/Music nib, Pilot Capless VP w/customized UEF nib, J.B.Mallat Extra rapide 22EF.
Inks: Noodler's Midway Blue, Diamine Inferno shimmerastic, Diamine Matador, Platinum Blue-Black, Platinum Carbon Black, Dr. Ph. Martins Bombay India ink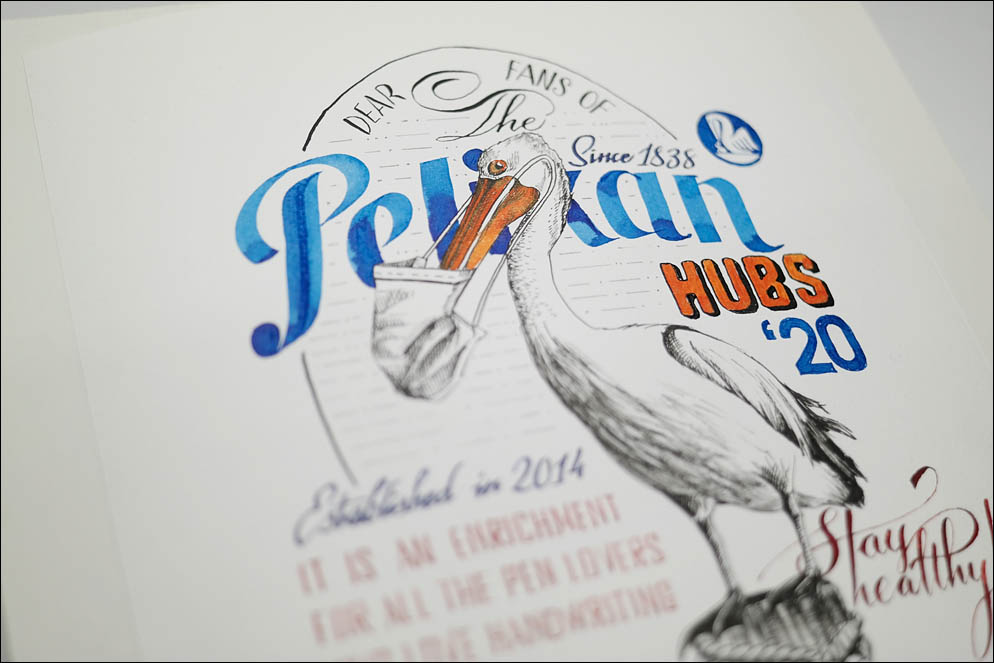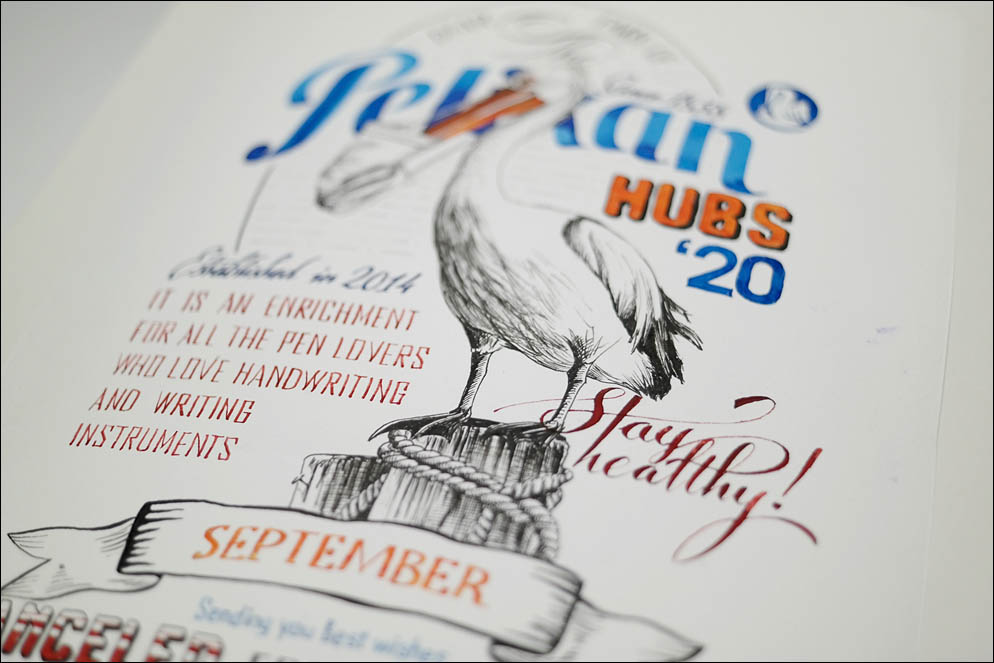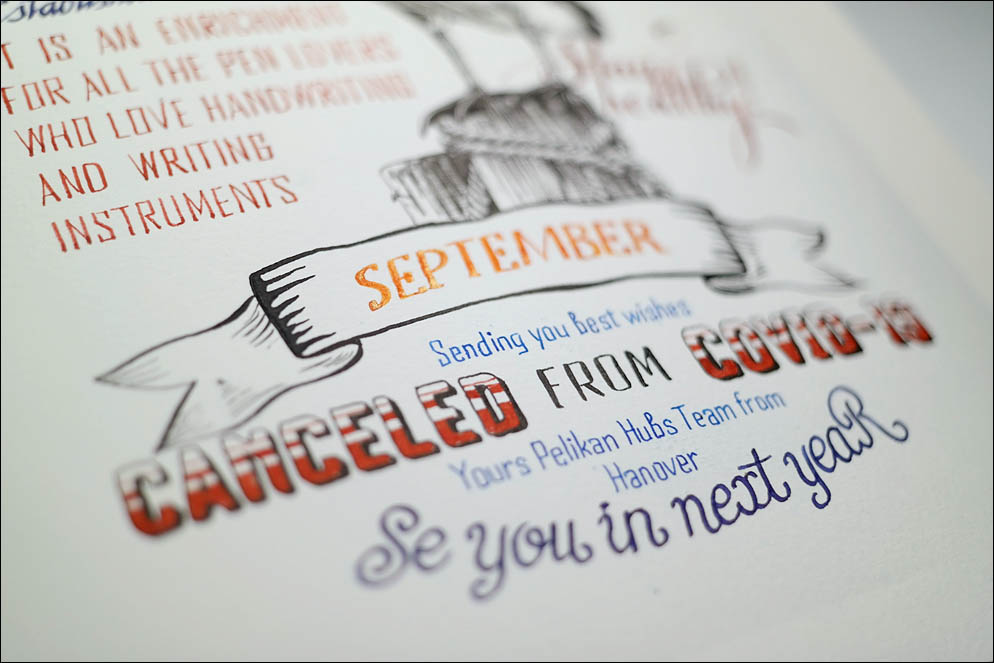 На этом пожалуй все, копим инструменты и впечатления до следующего года! (That's probably all, will collect new writing tools and impressions to next year!)
Be healthy, stay safety!