Приветствую всех любителей чернильных ручек, а скорее даже чернил к этим чернильным ручкам. Как некоторые помнят, 2 года назад я проводил подобный тест с которым можно ознакомится здесь: Fountain pen inks. Light resistance test 2018 – тогда продолжительность тестирования была 6 месяцев. Листы были запаяны в сливеры и вывешены на балкон на солнечную сторону(в первой половине дня). Однако балкон у меня находился в тени от кроны деревьев, поэтому солнечный свет пробивающийся сквозь крону, хоть и попадал на листки, но не постоянно, да и находился в движении. Собственно спустя 2 года я решил повторить тест, но в более экстремальных условиях, итак:
Greetings to all FP lovers, but rather even FP inks for their fountain pens. As some remember, 2 years ago I doed a similar test, which can be found here: Fountain pen inks. Light resistance test 2018 – then the test duration was 6 months. The templates were sealed in sleevers and hung out on the balcony on the sunny side (from morning to midday). However, my balcony was in the shadow of the crown of trees, so the sunlight breaking through the crown, although it hit the sheets, but not constantly, and sunlight was in motion. Actually, after 2 years, I decided to repeat the test, but in more extreme conditions, so:
Light Resistance(fadeout) fountain pens inks test 2020
Преамбула:
– 7.06.2020 были написаны тестовые листы в 2х экземплярах. Один предполагался к вывешиванию на окно, в сливере, другой в подобном сливере должен был быть убран в стол(или книгу) подальше от дневного света.
– Для теста я использовал обычную офисную бумага 80гр/м2, премиум класса А+ – Double A (A4)
– 9.06.2020 были сделаны сканы листов перед вывешиванием на окно (безо всяких коррекций с линейной гистограммой)
– тест проводился макательным пером, но для того чтобы получить максимально широкий спектр возможных цветов и тонов чернил, пером делалась надпись названия чернил; мелкая, тонкая штриховка имитирующая тонкое перо, "восьмерки" имитирующие флексовое перо и заливка обратной стороной пера(всей поверхностью) имитирующая широкое перо B или Stub.
– окно – типичный металлопластиковый, однокамерный стеклопакет Rehau на солнечной стороне (с восхода и примерно до 14.00), под прямыми лучами солнца безо всякой тени – самые экстремальные условия.
– чернила в тесте согласно расположенным записям:
Preamble:
– 07.06.2020 test sheets were written in 2 copies. One was to be hung on a window, the other is closed and to be put in a table (or book) away from daylight.
– For the test I used regular office paper 80gsm, premium class A + – Double A (A4) – see specs in update.
– 09.06.2020 scans of sheets were made before hanging on the window (without any corrections with a linear histogram)
– the test text was writen by dip nib pen, but for to get the realistic widest possible spectrum of colors and tones I use any technics: the name of the ink was made with a pressure; thin hatch for imitates a thin nib, "eights" for imitation flexible nib and wide line by reverse side of nib (entire surface) for imitation a wide B or Stub nib.
– a window – a typical metal-plastic, single-chamber double-glazed window Rehau on the sunny side (from sunrise to about 2 p.m.), under direct rays of the sun without any shadow – the most extreme conditions.
– test inks list:
Template 1:
Sheaffer Skrip Turquoise
Pelikan Edelstein Topaz
Pelikan 4001 Turquoise
J.Herbin Bleu Pervenche
Noodler's Midway Blue
Sailor "Storia" Blue Night
Noodler's Baystate Blue
Noodler's Ottoman Azure
Pilot Iroshizuku Asa-Gao
Montblanc Royal Blue
Organics Studio: Nitrogen Royal Blue
Organics Studio: Ernest Hemingway Santiago's Sea Blue
Organics Studio: Henry Davis Thoreau
OMAS Blue Reale
vintage Sheaffer Skrip Blue
Aurora Blue
Pelikan 4001 Blue
Pelikan Edelstein Sapphire
Parker Quink Blue
Diamine Majestic Blue
Diamine Enchanted Ocean
Diamine Oxford Blue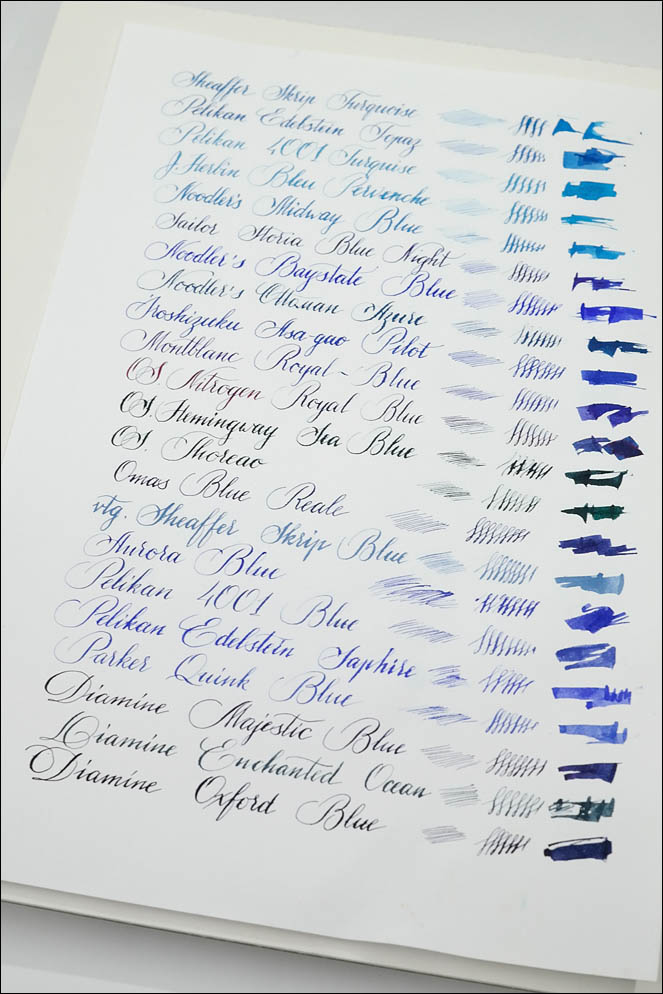 Template 2:
KWZ Wspomnenie znad Baltiky
Pelikan Edelstein Tanzanite
Noodler's Polar Blue
Diamine Deep Dark Blue
Sailor Shikori Younaga
Aurora Blue-Black
Diamine Bilberry
Diamine Blue-Black
Rohrer & Klinger Verdigris
Lamy Pacific Blue
J. Herbin 1670 – Emerald of Chivir
Pelikan Edelstein Mix (Star Ruby + Olivine)
Diamine Scrible Purple
Sailor Jentle Shigure
Schneider Violett
Pelikan 4001 Violett
Private Reserve Ebony Purple
Diamine Perple Pazzazz
vintage Sheaffer Blue-Black
Duke Blue (chinese ink)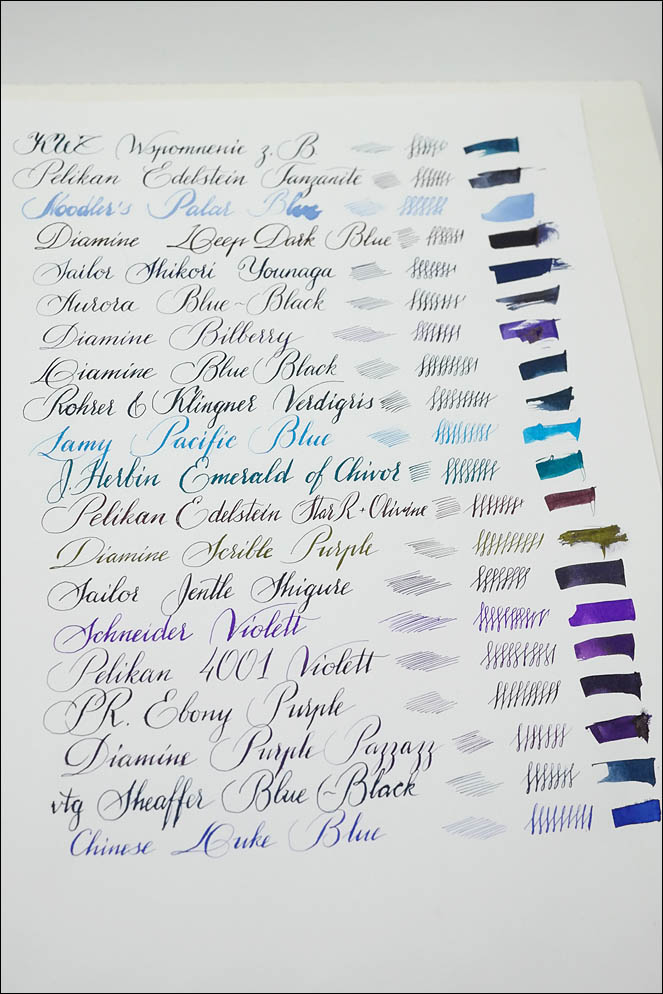 Template 3:
Pelikan Edelstein Aventurine
Pelikan Edelstein Jade
Diamine Ultra Green
Pelikan Edelstein Olivine
Diamine Deep-Dark Green
Diamine Teal
Diamine Yellow
Pelikan Edelstein Mandarin
Diamine Inferno Orange
Diamine Pumpkin
Diamine Matador
Pelikan Edelstein Garnet
Pelikan Edelstein Ruby
Pelikan 4001 Brilliant Red
vintage Sheaffer Skrip Red
J. Herbin 1670 – Rouge Hematite
Sheaffer Skrip Red
Fritz-Shimpf Fritzrot
Pelikan Edelstein Star Ruby
Diamine Deep Dark Orange
Campo Marzio Orancio
Diamine Red Dragon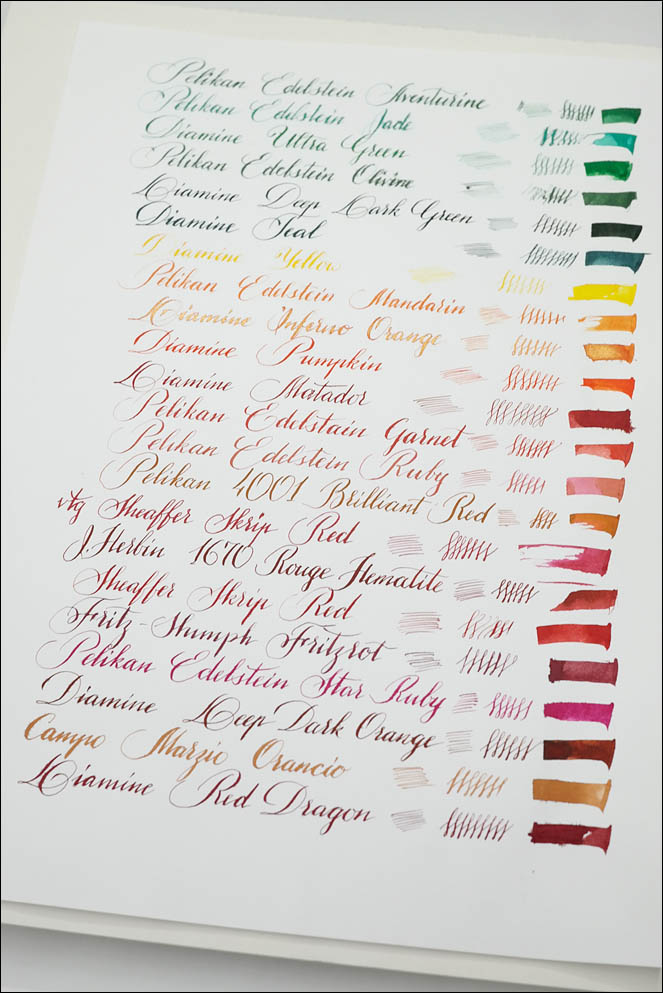 Template 4:
Diamine Ancient Cooper
Pelikan 4001 Brilliant Brown
De Atramentis Document Brown
Pelikan Edelstein Smocky Quarz
Diamine Oxblood
Platinum Brune Sepia (permanent)
Pilot Iroshizuku Tsukushi
Noodler's Beaver
Noodler's Kiowa Pecan
Diamine Ochre
Noodler's Red-Black
Parker Quink Black
Montblanc Mystery Black
Pelikan Fount India ink
Platinum Carbon Black
Montblanc Permanent Black
De Atramentis Document Black (only test w/o text)
KWZ Son o Warszawie
Pelikan Edelstein Onyx
Diamine Eclipse
Duke Black(chinese ink)
Waterman Intense Black
vintage Waterman JIF Permanente Black
Dr. Ph. Martin's Bombay India Black
Ну и собственно сами тестировочные замеры после 2х недель "загорания" (почти все дни были солнечные, возможно за исключением пары пасмурных).
Для более реалистичной оценки я сделал 2е группы снимков: а) парная сьемка тестируемого и эталонного листка; б) совмещенный скан тестируемого листка в первый день перед вывешиванием и по прошествии времени.
Well, actually the first frontier after 2 weeks of testing (almost all days were sunny, possibly with the exception of a two of cloudy ones).
For a more realistic assessment, I made 2 groups of pictures: a) pair shooting of the test and reference sheet; b) a combined scan of the test sheet on the first day before hanging and after a while.
Срок 2 недели (2 weeks test)
Template 1 (photo – tested template on the left, reference sheet on the right)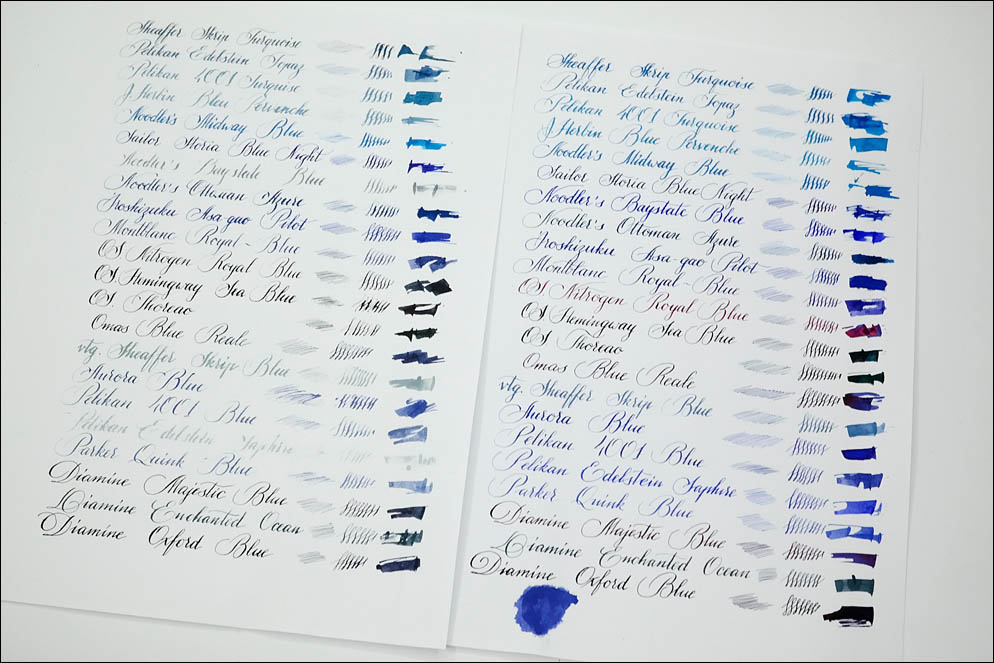 Template 1 (scan – referens template is main on the left, tested template on the right)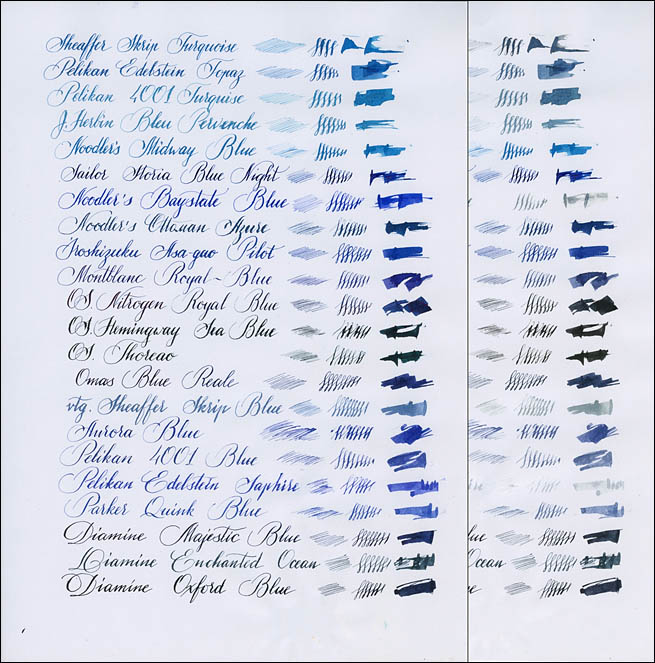 Template 2 (photo)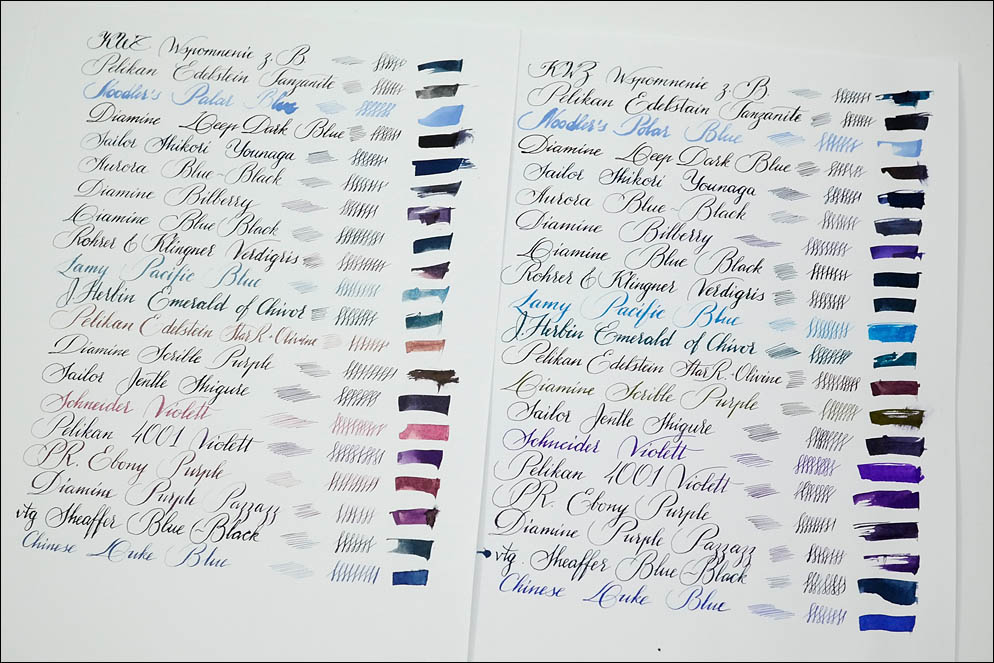 Template 2 (scan)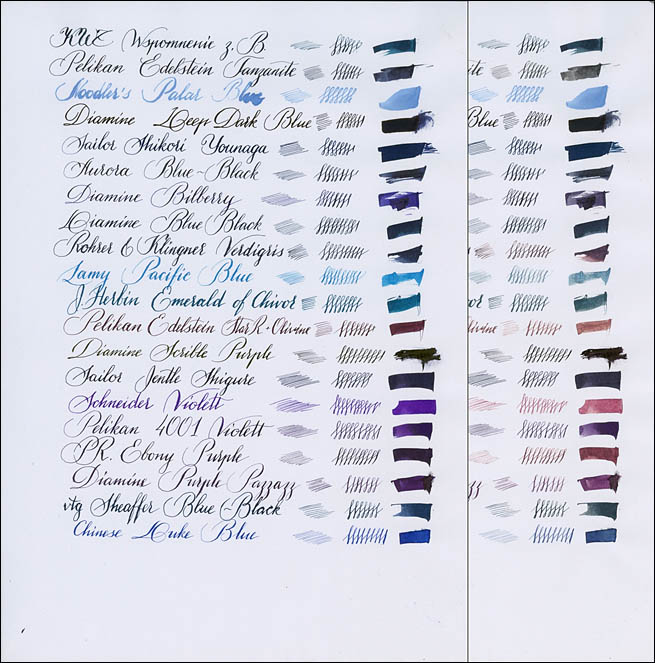 Template 3 (photo)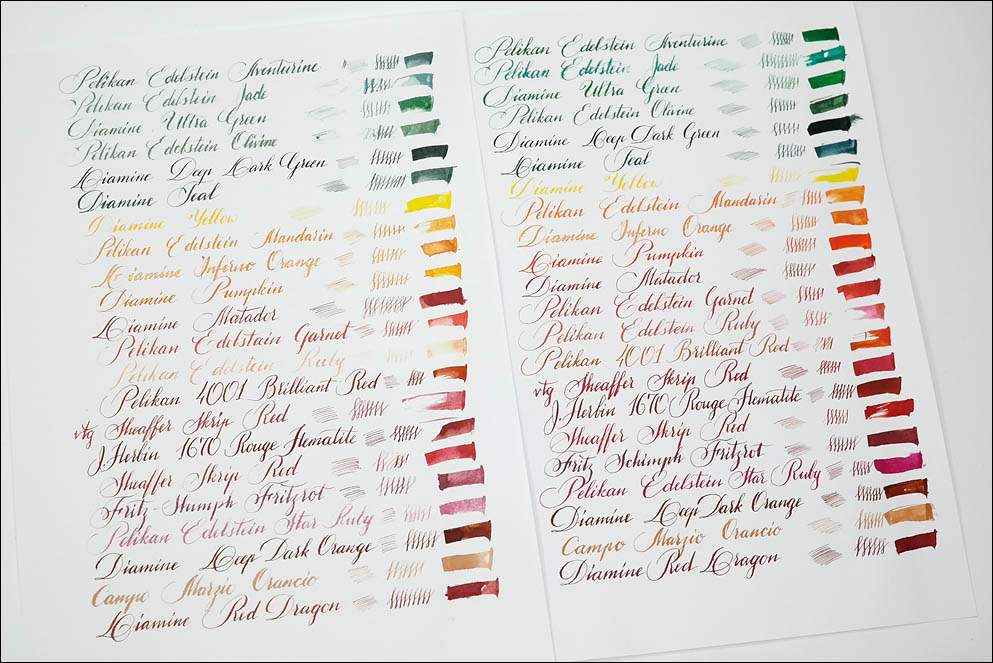 Template 3 (scan)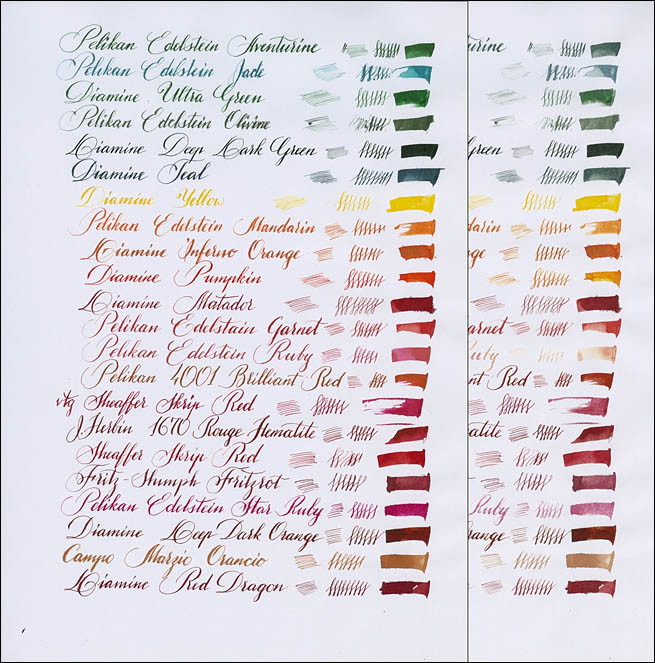 Template 4 (photo)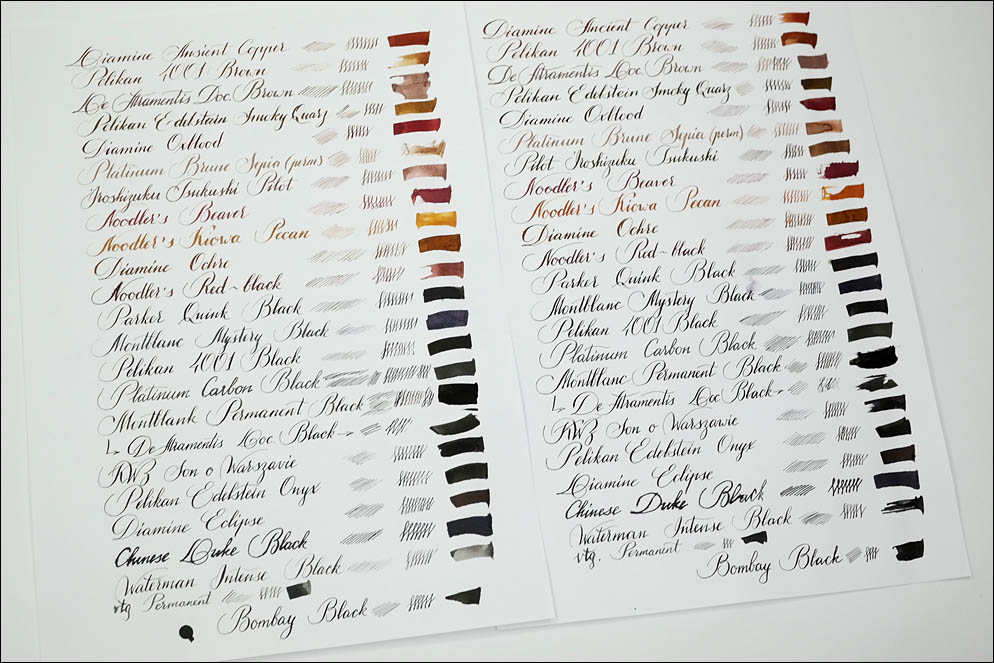 Template 4 (scan)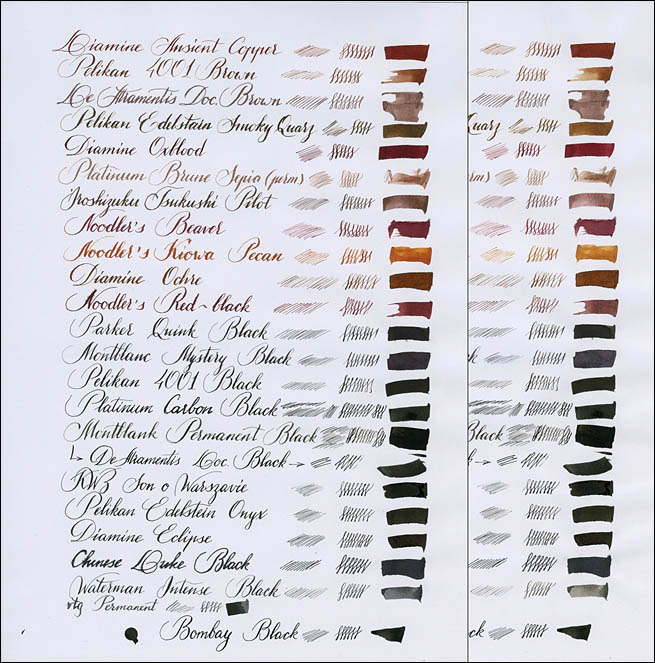 Итоги: по первым итогам можно определенно сказать что самым найменее устойчивым является синий пигмент\краситель, он выцветает быстрее всего. Самыми слабыми оказались Noodler's Baystate Blue, Pelikan Edelstein Sapphire и vintage Sheaffer Skrip Blue. Некоторые фиолетовые чернила из-за потери синего перешли в категорию красных:). Красные и зеленые оттенки незначительно утратили насыщенность. Самыми стойкими остаются коричневые и черные цвета. Оставайтесь на связи. Следующее обновление планирую сделать еще через 2 недели, т.е. месяц от начала эксперимента.
Results: according to the first results, we can definitely say that the blue dye/pigment is the least stable, it fades the fastest. The weakest were Noodler's Baystate Blue, Pelikan Edelstein Sapphire and vintage Sheaffer Skrip Blue. Some violet inks, due to the loss of blue dye, moved to category of red inks :). Red and green inks slightly lost their saturation. The most persistent are brown and black inks. Keep in touch. I plan to do the next update in another 2 weeks, i.e. month from the start of the experiment.
———————
Update: paper test info:
Бумага которую я использовал для тестов чернил и использую для регулярных тестов ручек.
The paper I used for ink tests and I use for regular fountain pen tests.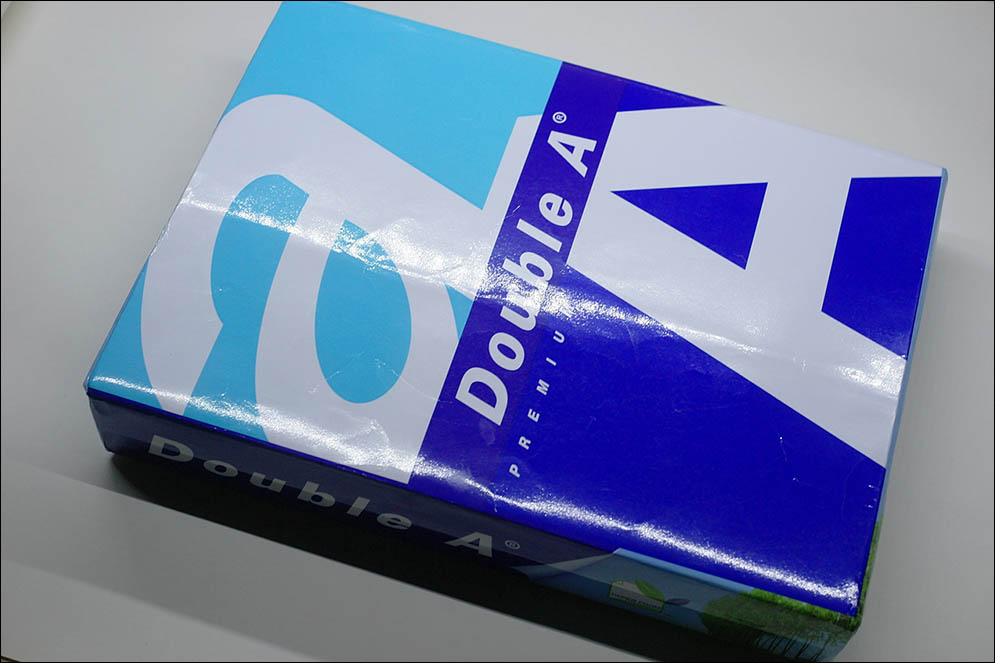 Paper specification:
Double A is a premium paper known for its high quality, superior performance and environmental friendliness.
It is best for all quality prints and copies.
– Outstanding smoothness
– Sharp prints
– High opacity for 2 sided use
Double A produces paper from KHAN-NA (the farmers' unused land between rice paddies) which helps to save trees from natural forests and reduce the global warming by absorbing carbon dioxide from the atmosphere. By using this paper you are helping to preserve natural forests.
80gsm
210 x 297 (or 420 x 297)
Brightness D65 111
Caliper 107
Moisture 4.2%
Opacity 95%
Roughness (ml/min) 70
Stiffness MD (mN.m) 0.45
Whiteness CIE 165
Русскоязычная рекламная информация.
Изначально я клюнул на нее из-за производства Франции, но капнув поглубже выяснилось что Таиланд. На американских сайтах встречал информацию что бумага класса А+ и безкислотная. Также выяснил что бумага на основе эвкалиптовых деревьев которые в отличии от обычных(13 млн волокон на 1гр) имеют 25млн волокон на 1гр. Скорее всего это все рекламные трюки чтобы выгоднее продать, но тем не менее бумага мне понравилась.
Initially, I decided to buy this one due to the production of France, but after reading the specification (after purchase:)) I found out that the production is Thailand. On US sites I found information that paper is class A + and acid-free. I also learned that paper based on eucalyptus trees which, unlike ordinary ones (13 million fibers per gram) have 25 million fibers per gram. Most likely these are all advertising slogans in order to sell better, but nevertheless I like paper in terms of price/quality ratio.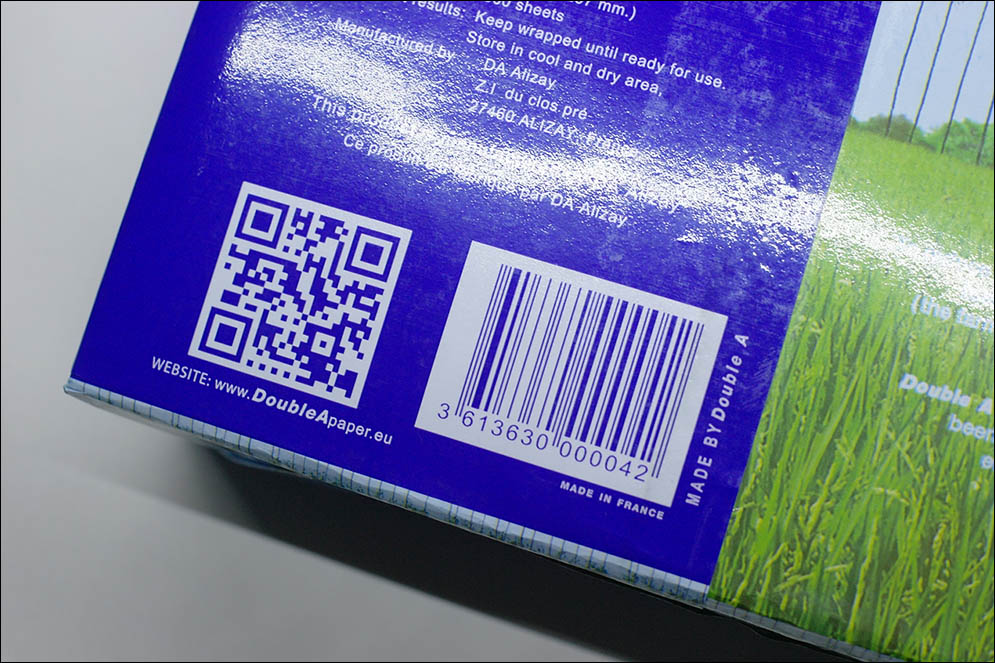 У меня вариант Премиум, но на Амазоне видел еще версию Everyday, видимо проще.
I have a Premium version, but on Amazon I saw another version of Everyday, apparently cheaper.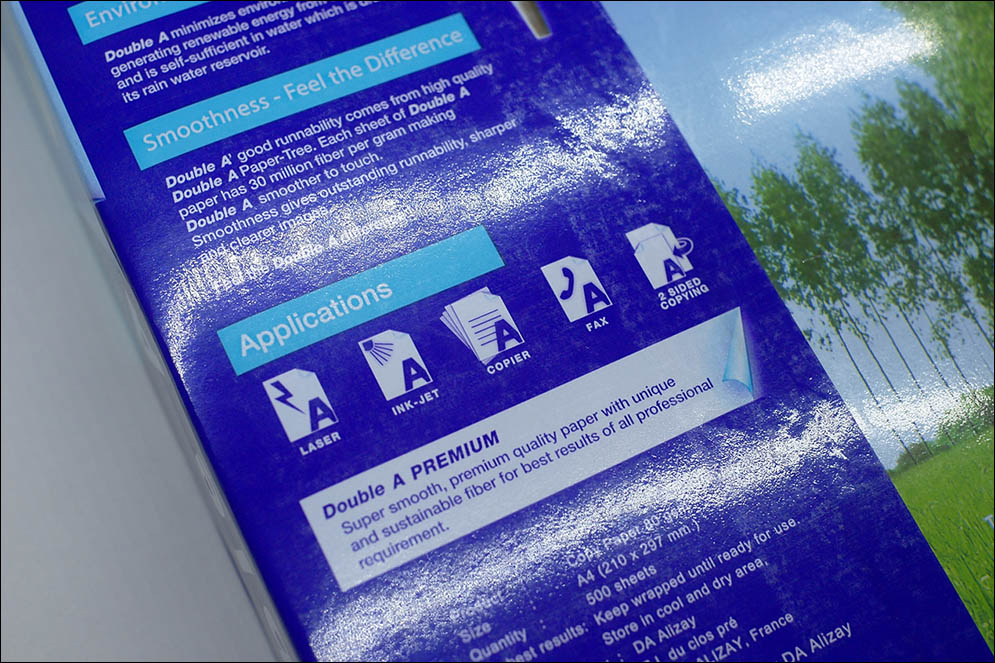 Актуально могу сравнить только с последними листами(неудачной партии) Data Copy Everyday и Xerox Colotech +. По плотности такая же как Датакопи, на просвет волокна схожие(невооруженным глазом:)), по тону немного теплее, ближе к натуральному белому, не такая "синюшная" как Датакопи и Ксерокс, но в сравнении с белой акварельно холодный тон присутствует.
Actually, I can compare only with the last sheets (modern bad, unlucky batch) of Datacopy Everyday and discontinued Xerox Colotech +. The density is the same as the Datacopy, similar to the fiber's lumen (visualy), the tone is slightly warmer, closer to the natural white, not as "cyanotic" as the Datacopy and Xerox, but there is a little cold tone in comparison with watercolor white paper.
Ну и собственно проверка боем:). В отличии от современной неудачной Датакопи – тушь держит замечательно, как и большинство нормальных чернил – это вы можете увидеть по моим тестовым эскизам для авторучек. Линия тонкая, не расплывается, на обратную сторону при умеренной подаче ничего не протекает,  хорошую тушь держит даже при остроконечном полугибком пере. Прозрачность конечно бумаги присутствует, т.е. она немного светится по сравнению с той-же Ксерокс 120гр, но в сравнении с другими офисными бумагами с 80гр мне кажется вполне обычная не вызывающая претензий.
Tests that I do with paper after purchase. Unlike the modern unsuccessful Datacopy, india inks works just fine, like most normally inks. This can also be seen on my fountain pen tests, which I regularly publish. The line is thin, does not thicken, does not leak to the reverse side with moderate ink flow, good india inks works fine even with a hard and semi-flexible sharp dip nib. There is some transparency of paper, more than Xerox 120gr, but it is typical for office 80gsm papers.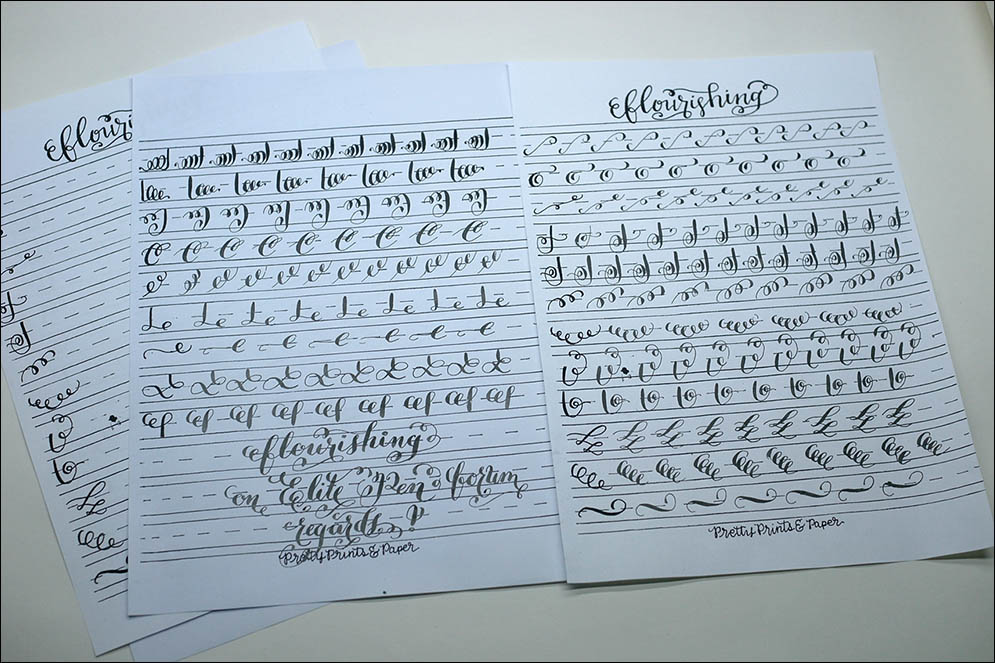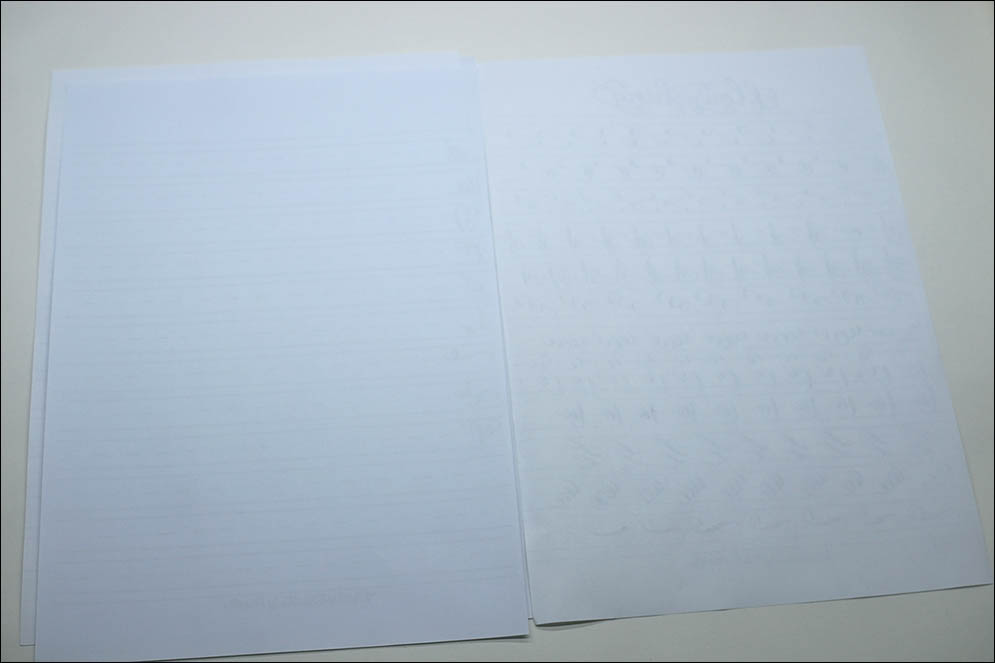 Это кусок Ксерокса Колотеч+ 120гр, но возможно фотография не совсем показательная.
Compare to the piece of Xerox Colotech+ 120gsm, but maybe the photo is not entirely indicative.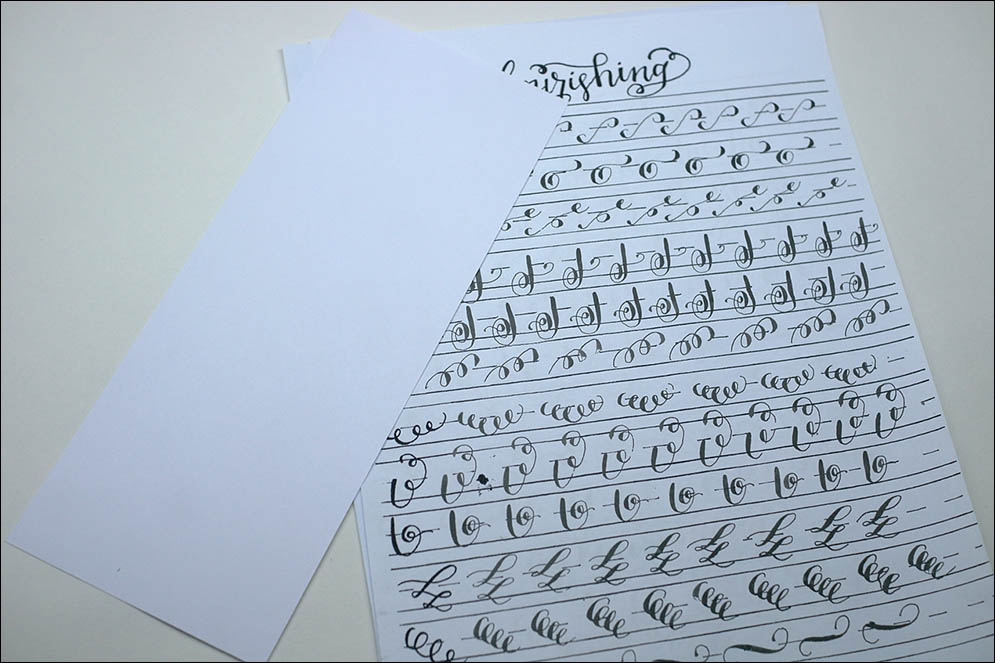 Держит даже брашпен заправленный чернилами, правда забыл сфотографировать обратную сторону, но поверьте практически ничем не отличается от приведенной выше после макательного пера.
Works well even with brashpen filled with fountain ink.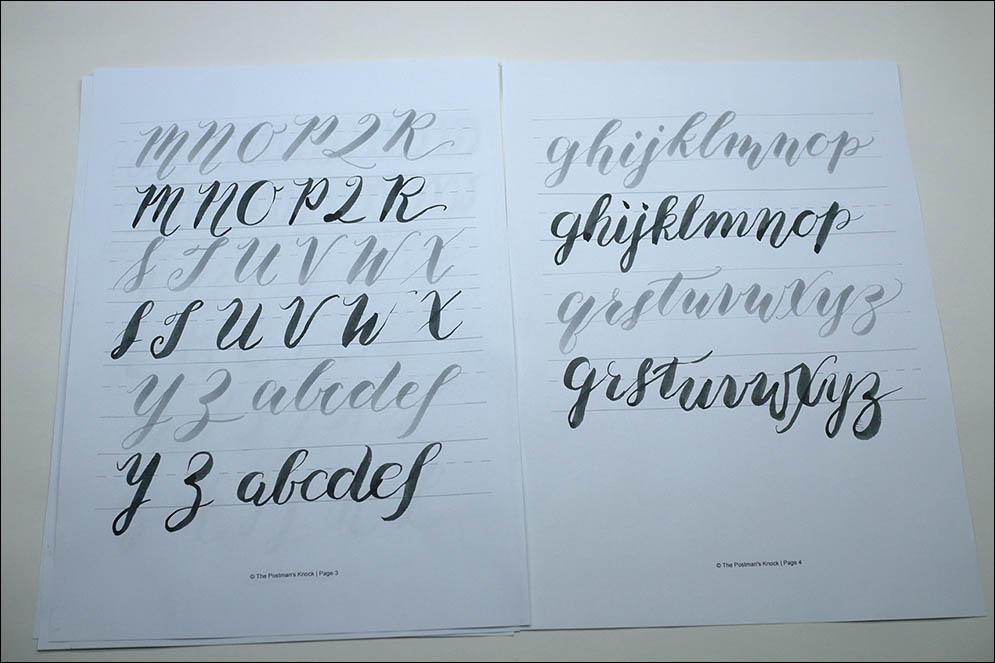 Не знаю как качество меняется от партии к партии, но ту что у меня, смело могу рекомендовать для письма чернильными ручками, а также упражнений каллиграфии, печати уроков и письму прям по ней.
I don't know how the quality changes from batch to batch, but I can safely recommend the one I have for writing with fountain pens, as well as calligraphy exercises, printing lessons and writing on it.