Friedrich Wilhelm Nietzsche (1844 –1900) was a German philosopher, cultural critic, composer, poet, and philologist whose work has exerted a profound influence on modern intellectual history. He began his career as a classical philologist before turning to philosophy. He became the youngest ever to hold the Chair of Classical Philology at the University of Basel in 1869 at the age of 24. Nietzsche resigned in 1879 due to health problems that plagued him most of his life; he completed much of his core writing in the following decade. In 1889, at age 44, he suffered a collapse and afterward a complete loss of his mental faculties. He lived his remaining years in the care of his mother until her death in 1897 and then with his sister Elisabeth Förster-Nietzsche. Nietzsche died in 1900.
Nietzsche's writing spans philosophical polemics, poetry, cultural criticism, and fiction while displaying a fondness for aphorism and irony. Prominent elements of his philosophy include his radical critique of truth in favor of perspectivism; his genealogical critique of religion and Christian morality and his related theory of master–slave morality; his aesthetic affirmation of existence in response to the "death of God" and the profound crisis of nihilism; his notion of the Apollonian and Dionysian; and his characterization of the human subject as the expression of competing wills, collectively understood as the will to power. He also developed influential concepts such as the Übermensch and the doctrine of eternal return. In his later work, he became increasingly preoccupied with the creative powers of the individual to overcome social, cultural and moral contexts in pursuit of new values and aesthetic health. His body of work touched a wide range of topics, including art, philology, history, religion, tragedy, culture, and science, and drew early inspiration from figures such as philosopher Arthur Schopenhauer, composer Richard Wagner, and writer Johann Wolfgang von Goethe.
After his death, his sister Elisabeth became the curator and editor of Nietzsche's manuscripts, reworking his unpublished writings to fit her own German nationalist ideology while often contradicting or obfuscating Nietzsche's stated opinions, which were explicitly opposed to antisemitism and nationalism. Through her published editions, Nietzsche's work became associated with fascism and Nazism; 20th-century scholars contested this interpretation of his work and corrected editions of his writings were soon made available. Nietzsche's thought enjoyed renewed popularity in the 1960s and his ideas have since had a profound impact on 20th and early-21st century thinkers across philosophy—especially in schools of continental philosophy such as existentialism, postmodernism and post-structuralism—as well as art, literature, psychology, politics, and popular culture.
Фридрих Вильгельм Ницше (15 октября 1844 — 25 августа 1900) — немецкий мыслитель, классический филолог, композитор, поэт, создатель самобытного философского учения, которое носит подчёркнуто неакадемический характер (как и другие направления философии жизни) и получило распространение, выходящее далеко за пределы научно-философского сообщества. Фундаментальная концепция включает в себя особые критерии оценки действительности, поставившие под сомнение основополагающие принципы действующих форм морали, религии, культуры и общественно-политических отношений. Будучи изложенными в афористической манере, сочинения Ницше получают неоднозначные интерпретации, вызывая много разногласий.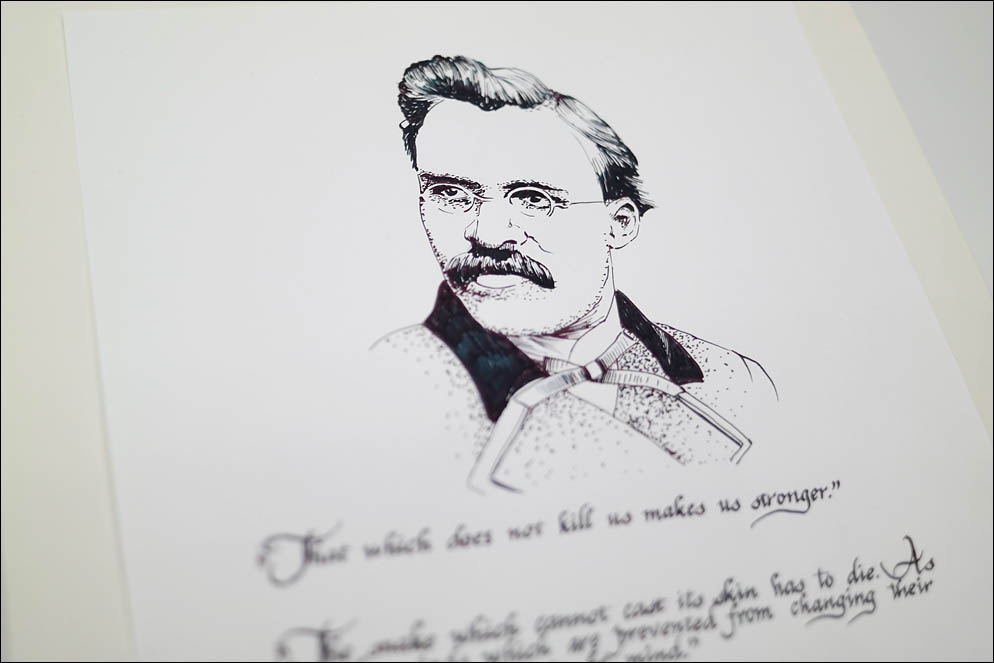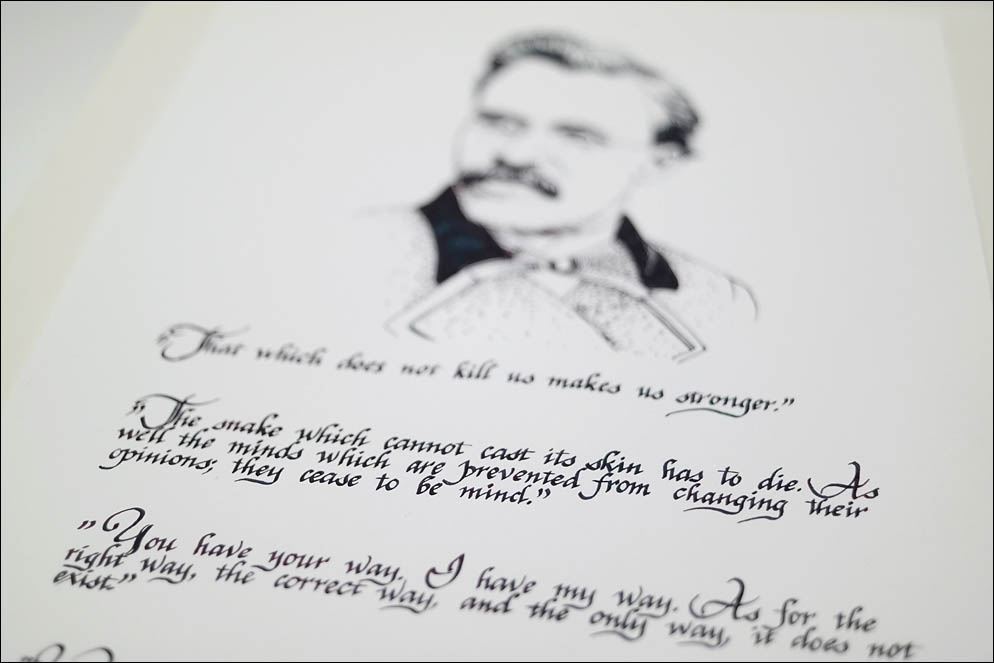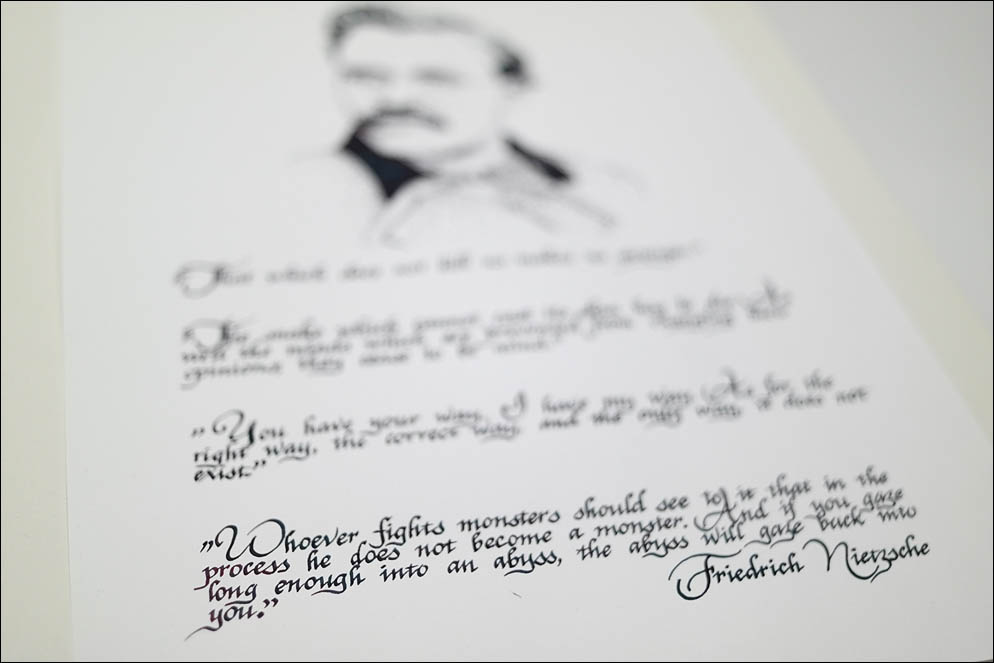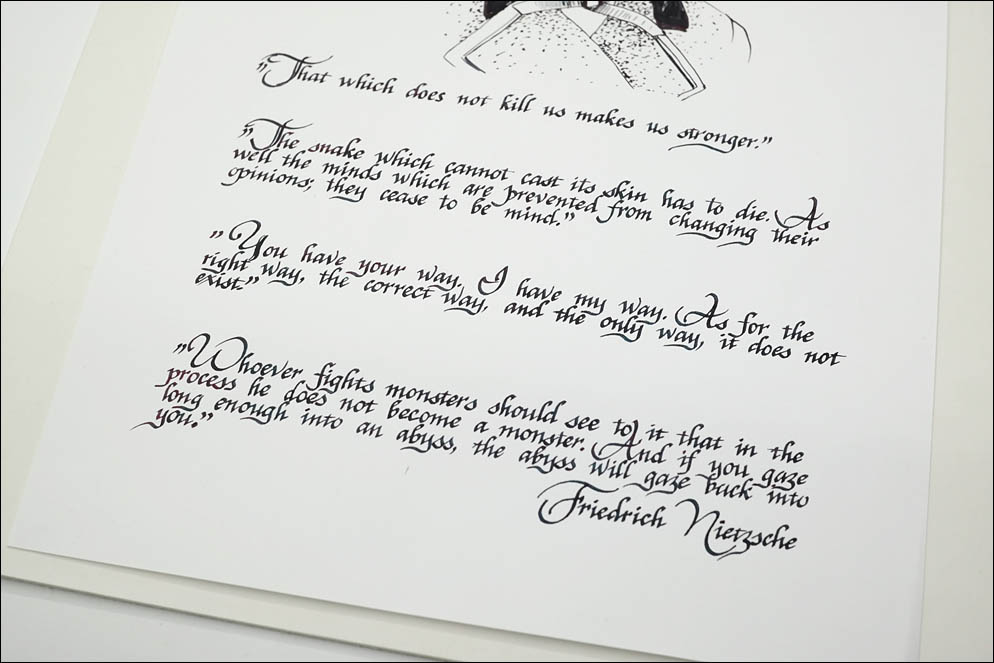 Dalai Lama is a title given by the Tibetan people for the foremost spiritual leader of the Gelug or "Yellow Hat" school of Tibetan Buddhism, the newest of the classical schools of Tibetan Buddhism. The 14th and current Dalai Lama is Tenzin Gyatso, who lives as a refugee in India.
The Dalai Lama is also considered to be the successor in a line of tulkus who are believed to be incarnations of Avalokiteśvara, a Bodhisattva of Compassion. The name is a combination of the Mongolic word dalai meaning "ocean" or "big" (coming from Mongolian title Dalaiyin qan or Dalaiin khan, translated as Gyatso in Tibetan) and the Tibetan word བླ་མ་ (bla-ma) meaning "master, guru".
Since the time of the 5th Dalai Lama in the 17th century, his personage has always been a symbol of unification of the state of Tibet, where he has represented Buddhist values and traditions. The Dalai Lama was an important figure of the Geluk tradition, which was politically and numerically dominant in Central Tibet, but his religious authority went beyond sectarian boundaries. While he had no formal or institutional role in any of the religious traditions, which were headed by their own high lamas, he was a unifying symbol of the Tibetan state, representing Buddhist values and traditions above any specific school. The traditional function of the Dalai Lama as an ecumenical figure, holding together disparate religious and regional groups, has been taken up by the present fourteenth Dalai Lama. He has worked to overcome sectarian and other divisions in the exiled community and has become a symbol of Tibetan nationhood for Tibetans both in Tibet and in exile.
From 1642 until 1705 and from 1750 to the 1950s, the Dalai Lamas or their regents headed the Tibetan government (or Ganden Phodrang) in Lhasa which governed all or most of the Tibetan Plateau with varying degrees of autonomy under the Qing dynasty of China, in which Tibet had been under non-Tibetan suzerainty, and a period of disputed "de facto independence" between 1913 and 1951. This Tibetan government also enjoyed the patronage and protection of firstly Mongol kings of the Khoshut and Dzungar Khanates (1642–1720) and then of the emperors of the Manchu-led Qing dynasty (1720–1912). In 1913, several Tibetan representatives including Agvan Dorzhiev signed a treaty between Tibet and Mongolia, proclaiming mutual recognition and their independence from China, however the legitimacy of the treaty and declared independence of Tibet was rejected by both the Republic of China and the current People's Republic of China. The Dalai Lamas headed the Tibetan government afterwards despite that, until 1951.
Далай-лама — линия передачи (тулку) в тибетском буддизме школы Гелугпа, восходящая корнями к 1391 году. По канону тибетского буддизма, Далай-лама является воплощением бодхисаттвы Авалокитешвары , бодхисаттвы сострадания. Начиная с XVII века вплоть до 1959 года Далай-ламы были теократическими правителями Тибета, руководя страной из тибетской столицы Лхасы. В связи с этим и теперь Далай-лама рассматривается как духовный лидер тибетского народа.
По отношению к Далай-ламе (хотя и не только к нему) используется титул «Его Святейшество». Хотя Далай-ламу часто считают руководителем школы Гелугпа, но, на самом деле, он таковым формально не является, — ею официально руководит Ганден Трипа (dga' ldan khri pa).
«Далай» означает в монгольском языке «океан» — в значении «Великий» (правящие ханы после Чингиса носили титул Далай-хан), «лама» (bla ma) в тибетском эквивалентно санскритскому слову «гуру» и имеет значение «учитель».
После смерти Далай-ламы монахи организуют поиски его следующей инкарнации (тулку, тиб. sprul sku), маленького ребёнка, который должен обладать определёнными признаками и пройти тесты. Поиск занимает обычно несколько лет. Затем ребёнок отправляется в Лхасу, где проходит обучение под руководством опытных лам. Далай-лама и Панчен-лама связаны, как учитель и ученик: тот из них, кто старше, бывает учителем, кто моложе — учеником. Также Далай-ламу называют лидером Тибета.
The 14th Dalai Lama(religious name: Tenzin Gyatso, shortened from Jetsun Jamphel Ngawang Lobsang Yeshe Tenzin Gyatso; born Lhamo Dhondup) is the current Dalai Lama. Dalai Lamas are important monks of the Gelug school, the newest school of Tibetan Buddhism, which was formally headed by the Ganden Tripas. From the time of the 5th Dalai Lama to 1959, the central government of Tibet, the Ganden Phodrang, invested the position of Dalai Lama with temporal duties.
The 14th Dalai Lama was born in Taktser, Qinghai, Republic of China. He was selected as the tulku of the 13th Dalai Lama in 1937 and formally recognized as the 14th Dalai Lama in a public declaration near the town of Bumchen in 1939. On 26 January 1940, the Regent Reting Rinpoche requested the Central Government to exempt Tenzin Gyatso from the lot-drawing process of the Golden Urn to become the 14th Dalai Lama. The request was approved by the Central Government. His enthronement ceremony as the Dalai Lama was held in Lhasa on 22 February 1940 and he eventually assumed full temporal (political) duties on 17 November 1950, at the age of 15, after the People's Republic of China's occupation of Tibet. The Gelug school's government administered an area roughly corresponding to the Tibet Autonomous Region, just as the nascent PRC wished to assert control over it.
During the 1959 Tibetan uprising, the Dalai Lama fled to India, where he currently lives as a refugee. He has traveled the world and has spoken about the welfare of Tibetans, environment, economics, women's rights, nonviolence, interfaith dialogue, physics, astronomy, Buddhism and science, cognitive neuroscience, reproductive health and sexuality, along with various topics of Mahayana and Vajrayana Buddhist teachings. A recipient of the Nobel Peace Prize in 1989 and the US Congressional Gold Medal in 2006, Time magazine named him one of the "Children of Mahatma Gandhi" and Gandhi's spiritual heir to nonviolence.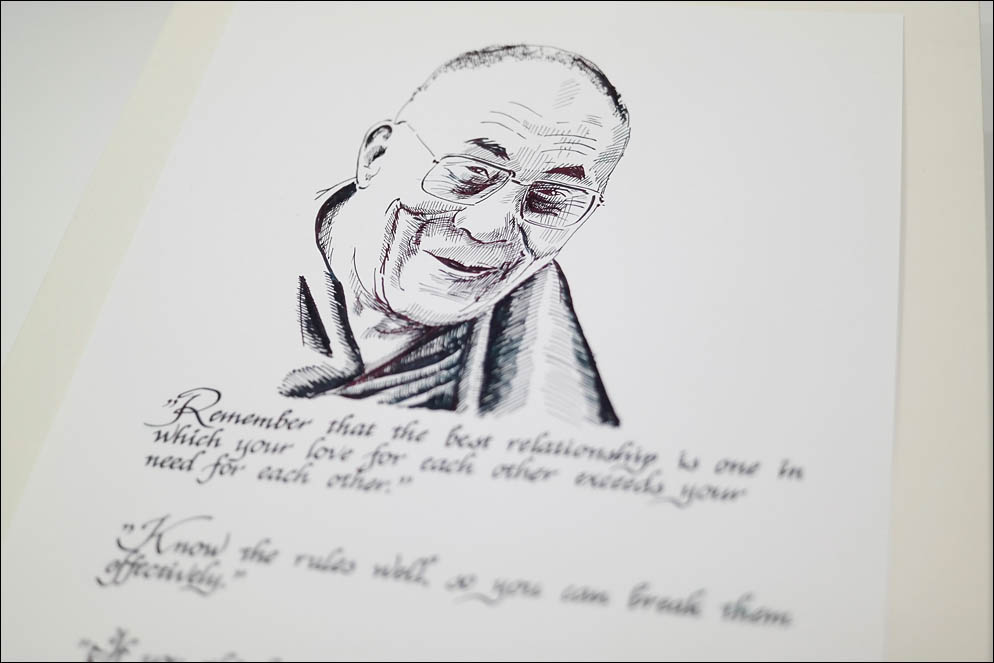 Далай-лама XIV (Нгагванг Ловзанг Тэнцзин Гьямцхо; имя при рождении — Лхамо Дхондруб) — духовный лидер последователей тибетского буддизма. Лауреат Нобелевской премии мира (1989). В 2007 году награждён высшей наградой США — Золотой медалью Конгресса. До 27 апреля 2011 года также возглавлял Тибетское правительство в изгнании (его сменил Лобсанг Сангай).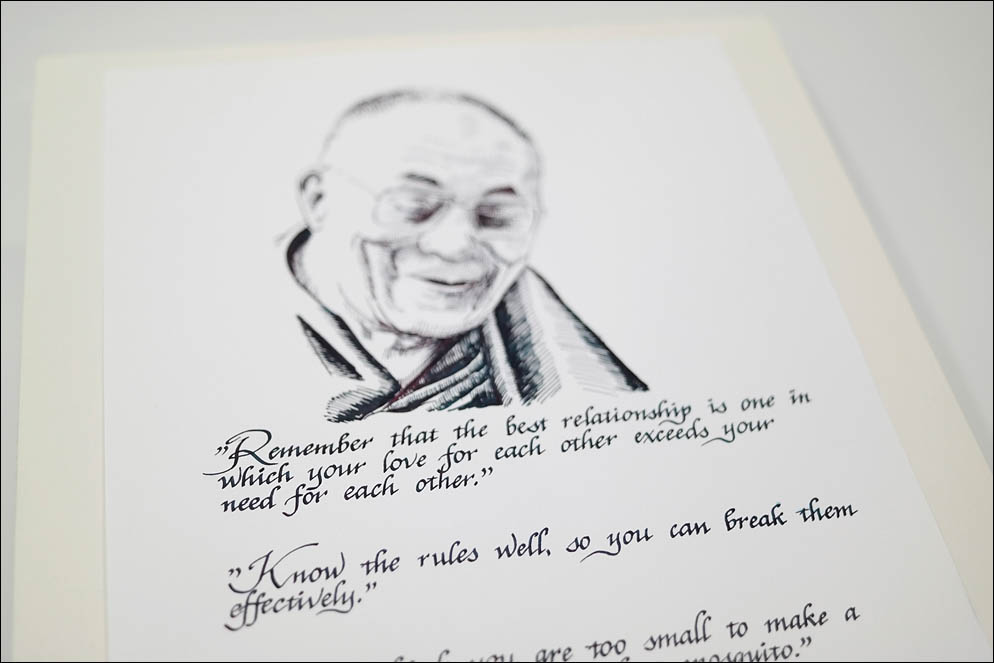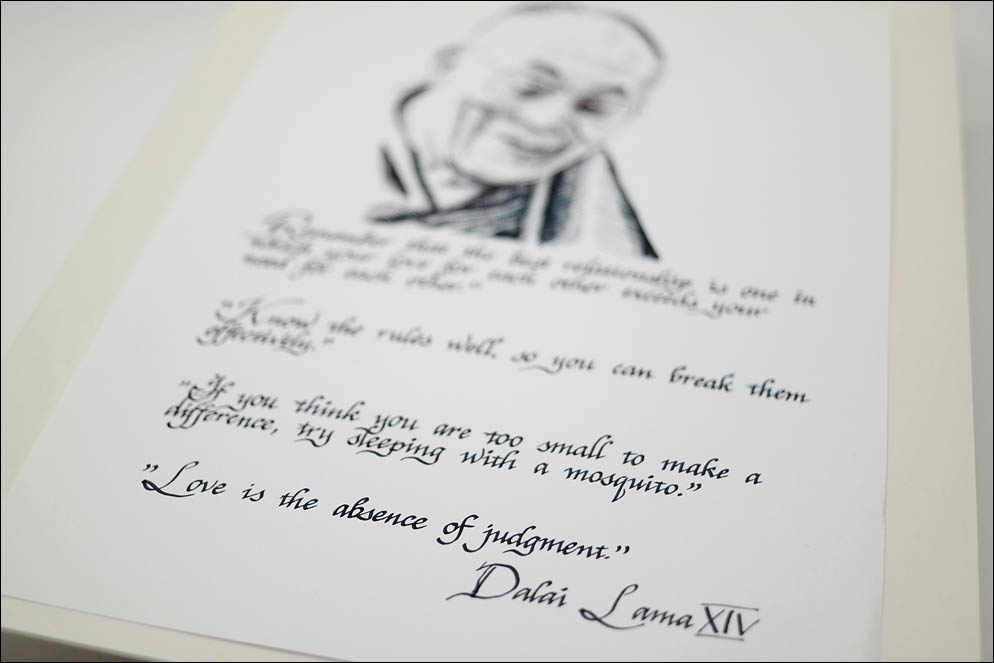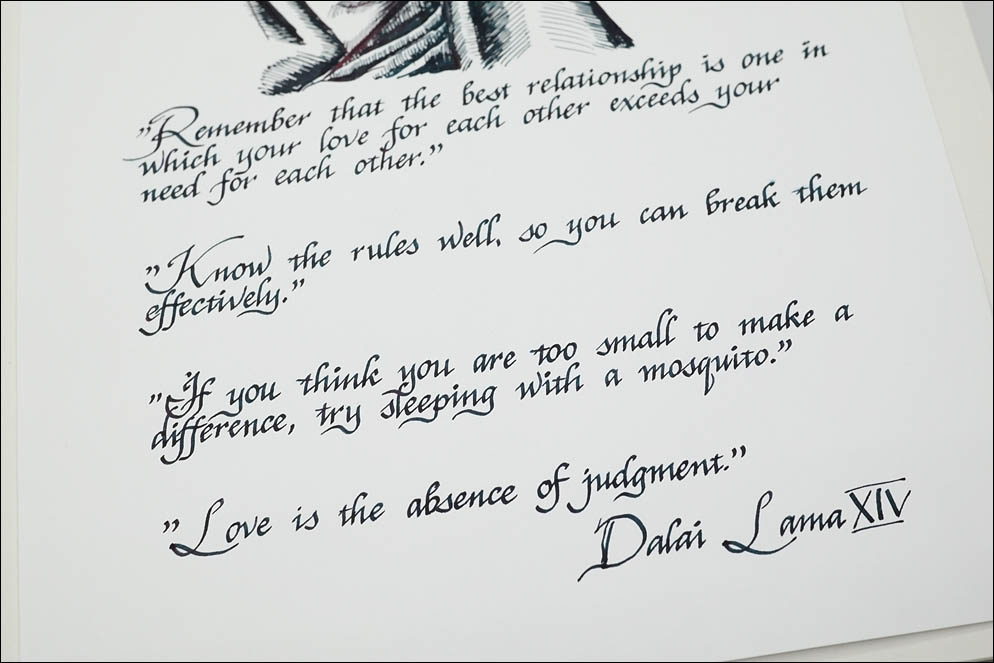 Sketch and text make by Platinum #3776 Balance with Music nib ground to crisp Italic.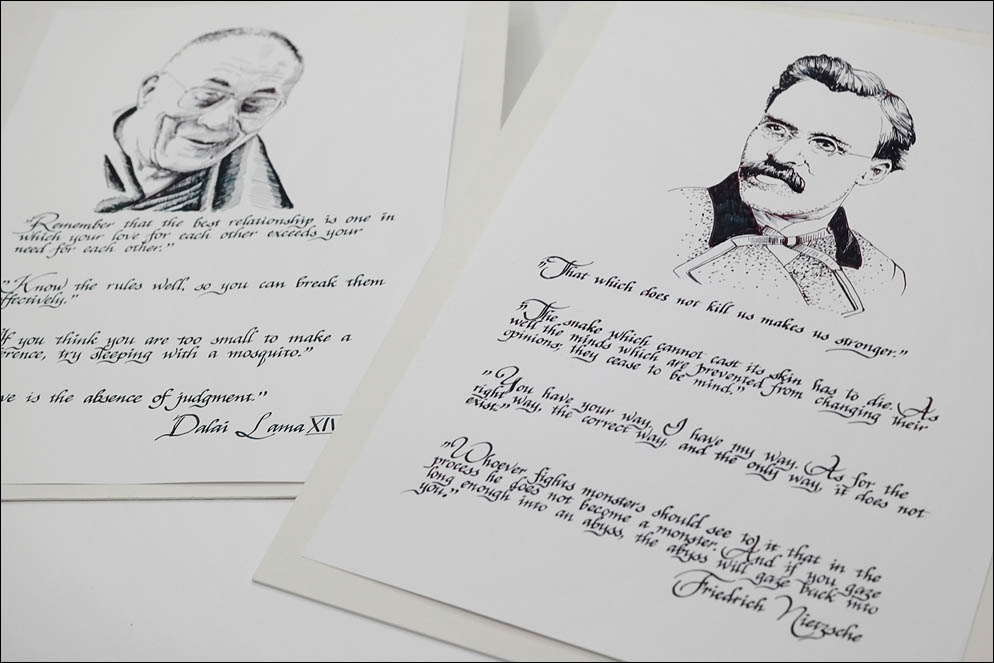 Update:
Shimmer by Organics Studio ink(Ernest Hemingway Santiago's Sea Blue) with red color shining in a side light.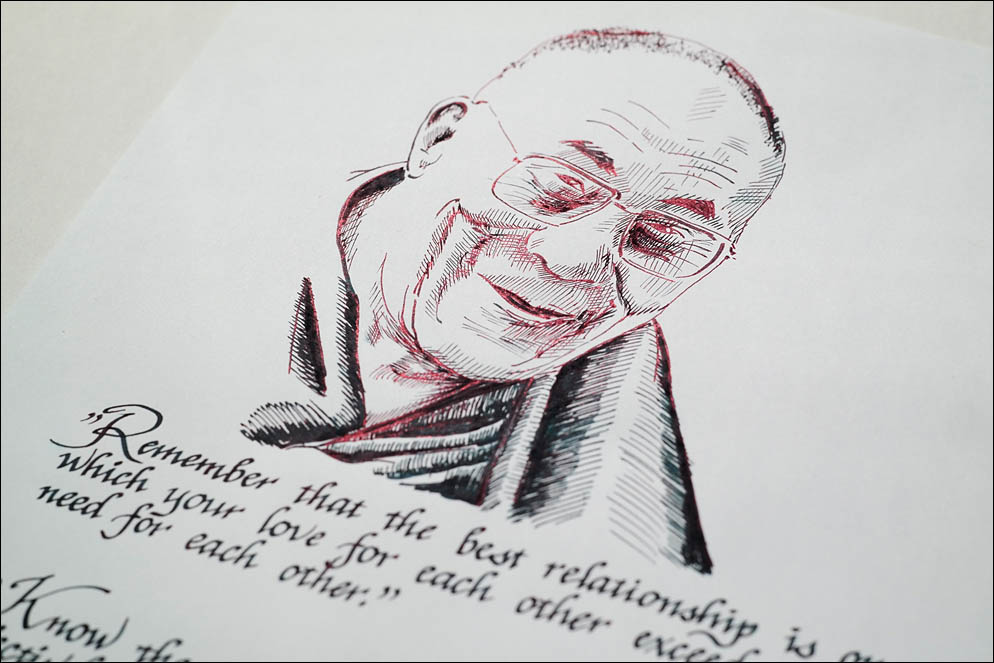 ————————————————
Update 10.06.2020
I ask you not to judge strictly! According to the idea of ​​one of the colleagues (FPNer), an art comic fantasy(joke) on the theme: "what would happen if Nietzsche and Dalai Lama were one person" 🙂 Meet the Dalaidrich Lamatzsche!
Прошу строго не судить и не воспринимать это как творческую шутку! С подачи одного из коллег, с FPN, фантазия на тему Ницше и Далай Ламы в одном лице:). Встречайте – Далайдрих Ламацше!